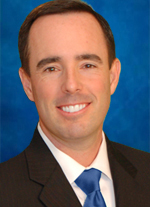 James was born in Miami, Florida and moved to Central Florida in 1980. He has been in the Real Estate business for more than 18 years. He began in the business of real estate as an investor buying and selling everything from low income properties to luxury homes. He specializes in residential real estate working with buyers and sellers and is an expert in short sales, foreclosures, and investment properties. One of his strongest assets is his ability to negotiate the hardest deals while authoring contracts that cover every detail while offering the greatest level of protection to clients. James is also a graphic designer, web designer, photographer, and videographer who uses these skills to help market and sell all of Clark Real Estate Group's listings. As a result of having these skills, James is able to provide services to all sellers that would otherwise only receive them if they sold a very expensive home with a typical agent.
James graduated from the University of Central Florida with both a Bachelors & Masters Degree Suma Cum Laude.
He's an avid sportsman who enjoys baseball, golf, hunting, and fishing. He's the proud father of two beautiful children and is married to the love of his life who just so happens to be his real estate partner, Christine.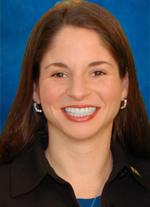 Christine has been working in the real estate field for more than 7 years and has lived and worked in Central Florida for over 18 years. Christine graduated from the University of Central Florida with a bachelors degree in business administration and a major in finance. While at UCF, Christine was a member of the Alpha Kappa Psi Business Fraternity.
She is a residential real estate expert that works with buyers and sellers and specializes in traditional sales, short sales, foreclosures, and investment properties. Christine also has extensive experience working with first time home buyers and long standing relationships with title companies, mortgage brokers, short sale negotiating companies, inspection companies and much more. Christine's greatest asset is the level of customer service she provides to all clients coupled with her attention to detail. With Christine, no detail goes unnoticed.
Christine is a mother to her two pride and joys J.R. & Julia and is married to her college sweetheart and real estate partner, James.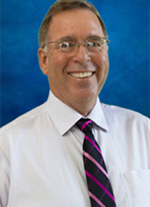 James grew up in Miami, Florida where he attended Florida International University before moving to Central Florida in 1980. He has been in the Real Estate business for more than 30 years. He specializes in working with investors and has years of experience buying, selling, and managing investment properties at all price levels.
James also has extensive experience in short term investments/flipping residential real estate. During this time, he developed skills in assessing resale values, renovation needs and respective costs, and managing multiple construction companies all working on different projects.
In addition to working in real estate, James also ran a successful finishing business in Orlando for more than 25 years. This experience has given him great insight into the commercial real estate market as he knows what business owners want and more importantly what they need.