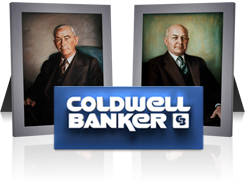 Coldwell Banker® is the oldest and most established residential real estate franchise system in North America, and it is known as one of the most innovative, forward-thinking real estate brands today.  We work at the Coldwell Banker Residential Real Estate office located in Winter Park, Florida. Our brokerage has a tremendous staff as well as more than 160 of Central Florida's best real estate agents. It's because of the caliber of agents within our brokerage that our office has been the top Coldwell Banker Office in the state of Florida for the last three consecutive years.
The Coldwell Banker story of leadership, innovation and success dates back to San Francisco in 1906. After a devastating earthquake, a young real estate agent, Colbert Coldwell saw the need for trusted, honest and knowledgeable real estate services to help the city rebuild. A few years later, Benjamin Arthur Banker came on board and later became a partner. The founding tradition and heritage of providing professionalism and superior customer service remains the core of the Coldwell Banker philosophy more than 105 years later.
Today, the Coldwell Banker network has extended internationally. An industry pioneer for more than a century through up and down markets, Coldwell Banker has trailblazed new paths in real estate at every opportunity.Coldwell Banker was the first full-service real estate brand to launch a national website, stream listing videos online, create social media and iPad applications, design mobile-friendly sites and more. Coldwell Banker will "never stop moving" and will always be at the forefront of providing exemplary service and trusted counsel to home sellers and buyers, in addition to best-in-class support and educational tools for its network of real estate professionals.